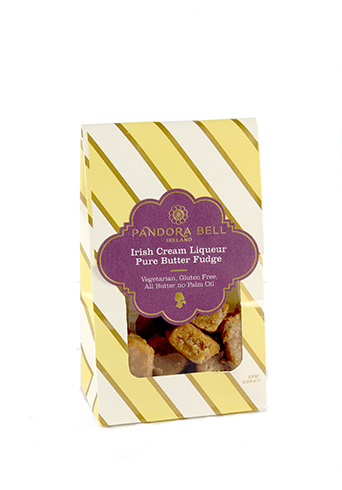 Irish Cream Liqueur Fudge, 150g: € 4.95
€4.95
Crumbly Fudge, Rich in Butter and the Taste of Once Upon a Time
Pandora Bell's Irish Cream Liqueur Fudge is made with real butter.  A dream for discerning foodies and certified Gluten Free
This delicious premium crumbly butter fudge is flavoured with Irish Cream Liqueur to turn the divine.. purely sublime.
Gluten free
Vegetarian
Free from artificial flavours and preservatives
No added colours
Contains alcohol
Sugar, Sweetened Condensed Milk (milk, sugar), butter (16%) (milk, salt), glucose syrup, golden syrup, Irish Cream Liqueur (5%) (water, cream, sugar, milk protein, palin caramel, emulsifier: sodium stearoyl-2-lactylate, stablisier: tri sodium citrate dehydrate, whiskey (0,5%), natural creamy vanilla flavour) fondant (sugar, glucose), natural flavouring.
Contains milk
Nutritional Information:
Typical analysis per 100g
Energy                                       1777kj/ 423kcal
Fat                                               15.2g
of which saturates                        9.7g
Carbohydrate                            70.4g
of which sugars                     65.1g
Protein                                     1.2g
Salt                                           0.26g
Fibre                                         Trace
For Customers in Ireland: Delivery is free of charge for all orders over €50 in value.
Orders below €50 are charged  €7.00 delivery
For Customers in the UK: Delivery is free of charge for all orders over €80 in value.
Orders below €80 are charged €12.00 delivery
For Customers in Europe and the Rest of the World: Delivery is based on the weight of the order.  Charges are calculated using the Irish Postal Service Rates
http://www.anpost.ie/AnPost/PostalRates/Standard+Post.htm
Delivery to our Irish and UK Customers is by Courier
For Europe and the Rest of the World we use the Postal Service
To preserve our quality and only deliver the best products to you: Please note that during the summer months we may be restricted in posting certain items. We will be happy to advise you on order or you can contact us on [email protected]